DIY Gifts for Dad
Posted by Heat Transfer Warehouse on Oct 23rd 2019
He was a first love, a first hero, and one of the first people to ever believe in you. He is your father (cue Darth Vader). But what gift is worthy enough for this awesome man in your life? One made from you, that is. Whether you're a mother reading this, a daughter, a son, or a father who wants to drop hints to your kiddos, Heat Transfer Warehouse has a few Father's Day gift ideas that you can do yourself. Take a look at a few different ideas our team came up with that will make great gifts for your dad on his special day.
T-shirts
Turn a plain t-shirt into one that fits the type of guy your dad is.
The type of heat transfer material you use is going to depend on the material of the shirt. Our ThermoFlex Plus is a popular heat transfer film. It is highly flexible and, if applied properly, will outlast the life of the garment. In addition to standard Thermoflex Plus, it also comes in neon, glossy, and metallic. We also have vinyl that stretches, adheres to nylon, stops dye migration, and is perfect for mesh and jersey athletic uniforms.
Koozies
If your pop needs something to put his pop in (or beer) what about making a customized koozie that you can make yourself?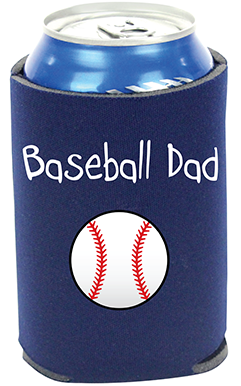 The type of heat transfer vinyl you use is dependent on what the koozie you are using is made out of. Siser EasyWeed will work on most koozies, but we recommend you test it on the product first. Siser EasyWeed will not adhere to nylon, but if you want to put a design on a koozie made from nylon, try our Siser EasyWeed Extra, which works on nylon material. If you are wanting to give your dad something sturdier, our Sign Vinyl will work on Yeti Koozies.
We tested Siser EasyWeed, ThermoFlex Plus, HTV Textured Glitter, and Chemica UpperFlock on Neoprene Can Koozies and they all worked great!
Grill Apron
For a grill lovin' guy, an apron like this one is one he won't want to get messy.
Make sure to check what the apron is made of before applying the vinyl. Take a look at our ThermoFlex, EasyWeed, and Chemica products to find one that pairs with the material of your apron.
CAUTION: Don't make him this if you don't want to be eating burgers or brats for a month straight.
Camping Chair
This gift idea is great for the dad who also doubles as your biggest fan at athletic events. Customize a camping chair for him to bring to some of your games. This idea would also work for the daddy who enjoys sitting around the campfire and roasting marshmallows.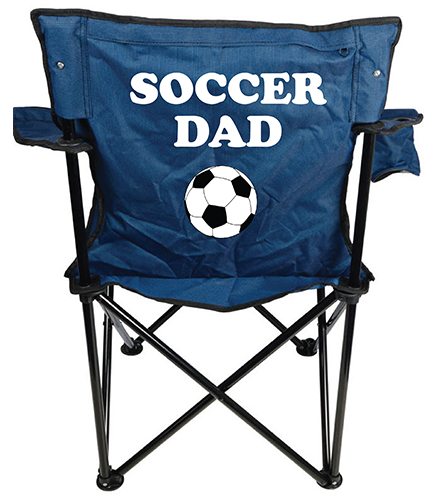 Make this yourself with our ThermoBanner2 – Sunmark which is excellent for outdoor durability.
Home Decor
Spice up the home or Dad's office with a piece that can be hung up on a wall.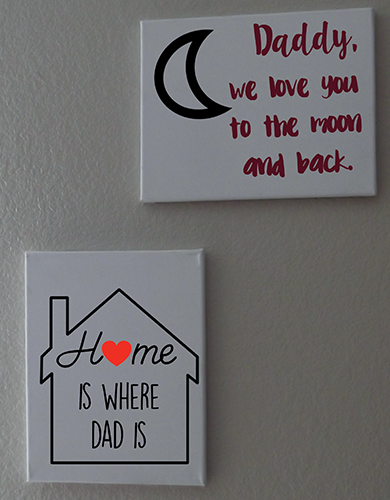 To make this yourself, check out our Sign Vinyls. Our Specialty Vinyls have fashion prints, chrome, chalkboard, dry erase and other types of vinyls. If you are looking to create decorative wall decor that can go straight onto a wall but can later be removed, try our Wall/Temporary Vinyl.
Hat
Already have a Hat/Cap Press and are wanting to put some use to it? Make your dad a customized baseball cap. You could press nearly anything you want on the cap and have endless options for colors.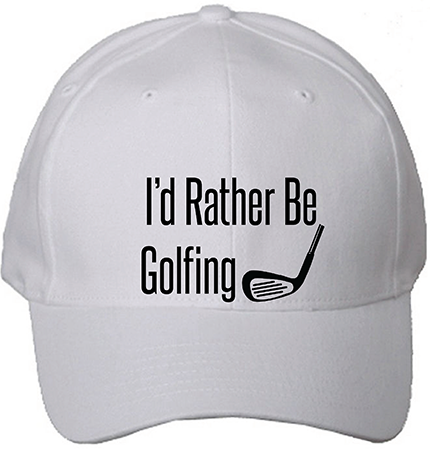 Be sure to check what the baseball cap is made from before applying the vinyl. If it's made from cotton or polyester, most of our ThermoFlex products will work. If it's made from nylon, check out our ThermoFlex Xtra.
Bags
For the active dad who loves to hit up the gym, bike, run, or even for a dad who travels, a DIY customized duffel bag will be one that he will be eager to use once he opens this gift.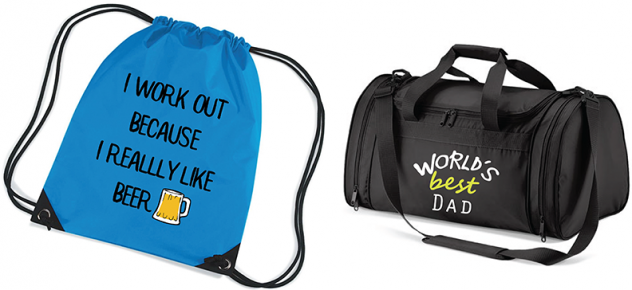 For a bag made from nylon, use our Siser EasyWeed Extra. If you're looking for a design with bright, vivid colors, try our EasyWeed Extra Fluorescents.
Tool Kit
Customize a brand new tool kit for your dad or spice up the one he already has with personal labeling. Make one yourself using one of our Sign Vinyl materials. If you're wanting to add an extra effect with glitter, neon, or metallic, check it out here.
Mug
If you have a mug heat press, here are some sublimated coffee mug ideas that your coffee lovin' dad will be sure to love (and use).
To dye sublimate your own polyester coated products, use our Sawgrass Sublimation Printer SG500 with Starter Install Kit that comes with the printer, inks, and software. If you already have the starter kit, find more Dye Sublimation Ink here.
Don't have a mug press, but want to get one? We offer mug presses on our website too.
Final Thought: As always, test cut AND test press on the material before creating your final product to make sure it will adhere. Have fun making the father figure in your life a gift that he will cherish. Hopefully these ideas helped you spark your creativity for the perfect DIY gift for Dad.