Sawgrass Dye Sublimation Printers: SG400 vs SG500
Mar 31st 2020
The SG400 sublimation printer was a workhorse of a dye sublimation printer that packed a lot of features at an affordable price. Allowing for many people to make a quick return on their investment in the SG400. Sawgrass will be launching their two new sublimation printers at the beginning of May, the SG500 and SG1000 sublimation printers. The SG500 is the upgraded version of the SG400. So let's take a look at what is the difference between the SG400 and the SG500
Sawgrass SG400 Sublimation Printer
Advanced Photo mode allows you to print at 1200x600 dpi
Uses SubliJet HD Inks for vibrant, realistic colors with deep blacks and neutral grays
Maximum media size of 8.5"x14"
With the addition of a bypass tray, it can expand its maximum media size from 8.5"x14" sheets to 8.5"x51" roll material.
Sawgrass Virtuoso SG500 Dye Sublimation Printer
Sawgrass SG500 Sublimation Printer

The new SG500 is the successor to the SG400. Everything that the SG400 could do, the SG500 does too. So the real question is what is unique to the SG500?
Ultra Fine Photo mode allows you to print at 4880x1200 dpi.
WiFi capability means improved ease of use and mobility.
Single roll-bar helps to reduce paper jams.
The option to purchase a starter set of inks makes these printers more accessible.
New Sublijet-UHD ink is redesigned for even richer, more vibrant color on both hard and soft substrates.
More energy efficient.
The SG500 is backwards compatible with the SG400 bypass tray. With the bypass tray, the SG500 can print up to 8.5" x 51" material.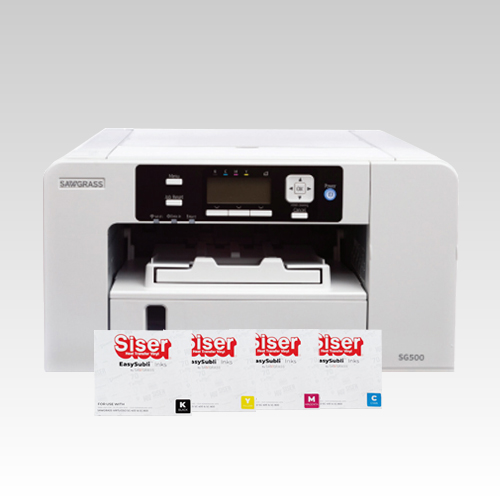 Sawgrass Virtuoso SG500 Dye Sublimation Printer Siser EasySubli Bundle
What comes included with a Sawgrass printer?
Sawgrass Academy offers comprehensive online training for Sawgrass users
Sawgrass Creative Studio is an easy-to-use design software. It has thousands of ready-to-use designs. An individual account is included with every Sawgrass printer purchase.
Print manager ensures the colors you get are the colors you want. This software adjusts ink output based on the substrate you are printing on. This saves you money with less wasted ink, and ensures the best finished product.
GO Expression is a complimentary online market-place for you to sell your custom designs.
GO Exchange is a complimentary fulfillment service that works with GO Expression.
When you put these two printers head-to-head, the SG500 clearly has the upper hand. If you want the highest possible print quality, The SG500's 4880x1200 dpi ultra fine photo mode is a huge upgrade from the SG400's max dpi of 1200x600.
If you are considering upgrading from an SG400, you may also want to consider the SG1000 to get a larger print area in addition to the great new features of the SG500. To learn the difference between the SG500 and SG1000, check out this blog.
Get a quick look with our SG500 unboxing video