How to Create a Rhinestone Transfer
Posted by Heat Transfer Warehouse on Oct 24th 2019
Creating your own rhinestone transfer can seem like an intimidating process. Rhinestone designs are a little more complex than creating simple vector artwork. However, with the use of Rhinestone software (which we provide), it's really not too difficult! In this blog, we will give you step-by-step instructions on how to create your very own rhinestone transfer!
Keep in mind that when creating your own transfer, it can be difficult to use more than one color of rhinestone. If you're looking to do create a large design, or one that may need more than one color, we do provide the option of Custom Rhinestone Transfers, in which you provide us with artwork and we create the transfer for you!
---
What will you need?
Once you have your design prepared, you're ready to begin.
---

Steps
1) Load your flock in the cutter (face up).
2) Export your rhinestone design to your preferred cutting software and send to your cutter. Normally, template flock is cut at at a heavier pressure and uses a 60 degree blade.
3) Peel the flock from its liner. This will reveal the holes that you have cut in your cutter, which will act as your stone placements.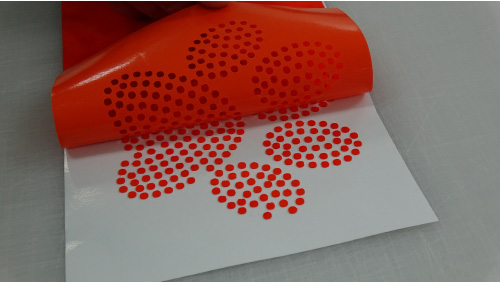 4) Place the flock (sticky side down) on your template board.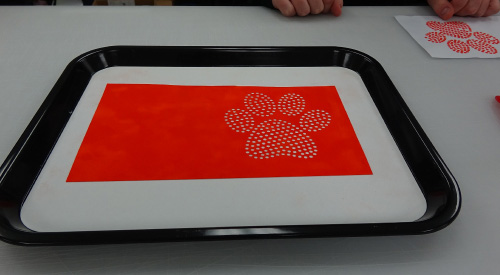 5) Pour rhinestones on your board and gently brush the rhinestones across your design using a rhinestone brush. Do this until they each have a spot in one of the stone placement holes in your flock. Often, many of the rhinestones will fall into the holes the proper way. However, some stones will likely fall upside down, or may too stubborn to even fall into a hole. In that case, a tweezers may be needed to properly place some rhinestones in their place.
6) Now that your stones are in place, grab your KTM (rhinestone transfer) mask and peel it off its liner. Place it (carefully!) on top of the rhinestone design.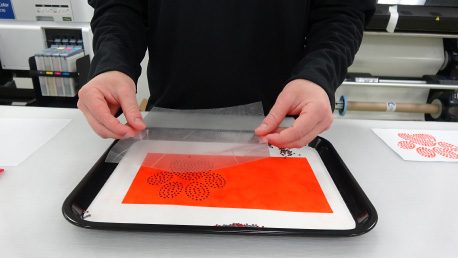 7) Apply firm pressure across the entire design to ensure that the rhinestones stick to the KTM mask. For smaller designs, you can use your hand; however, for larger designs we recommend using a squeegee.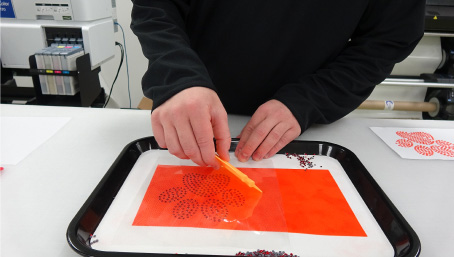 8) Peel the KTM mask away from the flock in a smooth motion. If you find that not all rhinestones are sticking to the KTM mask, simply lay the mask back down and apply more pressure in that area.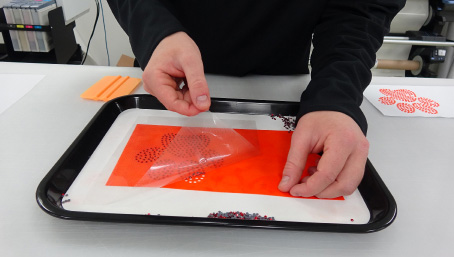 9) Now that your rhinestone design is on the KTM mask, if you aren't ready to press your design, place the mask back on its liner and save until you're ready to press. You may notice that the orange fibers from the template flock are sticking to the KTM mask. No worries, these orange fibres will not stick to your garment when pressing! If you are ready to press, go to the next step.


10) Place your design on your garment and press at 305 degrees for 10-15 seconds. It is very important to peel COLD!
And you're done! Congratulations – you've officially created your own rhinestone transfer! If you decide to create your own rhinestone transfer, make sure to share it with us on our Facebook page!