How to Bank Off Dye Sublimation Blanks
Jan 22nd 2020
Maybe you just purchased your dye sublimation printer and you're wondering what on earth to do with it or maybe you have a long standing business and you're looking to diversify. Dye sublimation blanks are a great way to get into dye sublimation. Dozens of options to choose from plus easy access to design templates make blanks almost a no brainer!
What is a Dye Sublimation Blank?
So what is a "dye sublimation blank" and what makes it different from a blank mug or coaster that you can pick up at your local WalMart?
A dye sublimation ready blank is any hard surface that is covered in a high quality polyester coating. Blanks take many forms from coasters to keychains and can be used to easily customize your projects. Keep in mind that the importance of purchasing good quality dye sublimation blanks is the key to long lasting vibrant transfers.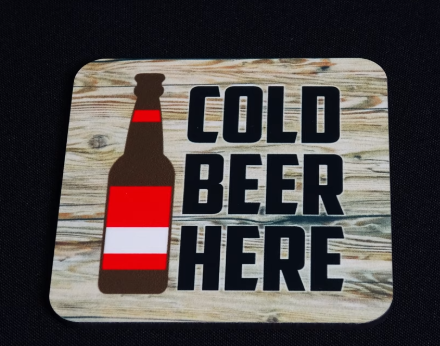 Heat Transfer Warehouse offers many options for dye sublimation from coasters to bag tags and photo panels to key chains and name badges. The greatest advantage of dye sublimation is that it is so easy to customize!
How to Make Bank
Let's talk return on investment (ROI) which is just a fancy way of looking at how incorporating blanks into your business will increase your profits.
The best way to up sell dye sublimation blanks is by incorporating "perceived value." Anyone can buy a generic "Cold Beer Here" coaster from anywhere. What you can offer is instant and personal customization. Instead of a generic saying, add a photo of the grandkids, the customer's catchphrase, a pet, or even a family photo. By adding that personalization, you've instantly increased the value of that blank, which means you can sell it for more. Instead of a Christmas ornament that says "Merry & Bright" add a photo of the customer's child, grandchild, cherished pet or even the family name with the year. All of these things increase the value in the customer's eyes and allow you to charge more.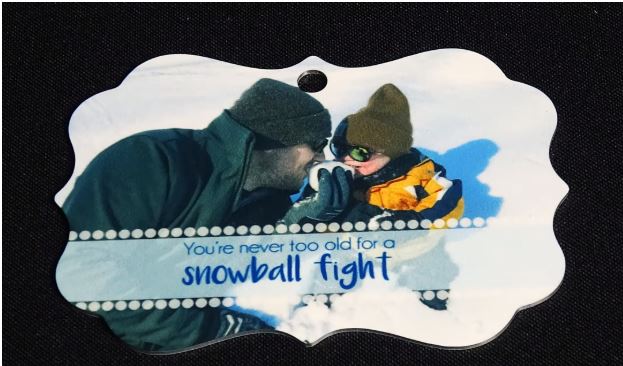 We've talked about the importance of perceived value so now let's talk numbers. For this example we'll use Bag Tag US-4621 with dimensions of 2.5"x4.25". Let's say you have a cheerleading squad with 40 members that want personalized luggage tags for all of their duffle bags. This is a double sided blank so on one side, you put the name of the cheer squad, the school logo/mascot and on the other side a photo of the cheerleader with their name below. Let's calculate your cost first. A case of 50 bag tags costs $71.50 + $8.95 shipping, so each tag costs $1.43 for a total of $57.20 for 40 tags. Each transfer is 10.625 square inches and the cost of ink per square inch is 1 cent so each transfer will cost almost $0.11 to print. The cost of paper is $22.18 for a 110 sheet pack of 8.5x14 paper or $0.22/page. You can print 6 transfers per page with a bit of extra room between each so you'll need 14 pages which is $3.08 in paper. Let's total your cost of materials for each bag tag.
$1.43 (tag) + $0.22 (ink) + $0.08 (paper) = $1.73 per blank
Now here's the most important part. Don't forget to pay yourself! When calculating in the cost of each transfer, do not short change yourself for labor! Printing, cutting apart transfers, and pressing 40 double-sided bag tags will take you at least 2 hours. Make sure to calculate that into the price you charge. Your total cost for materials will be $69.20. Because of the perceived value added with each cheerleader's photo added to their bag tag, you could easily charge at least $10 per tag for a total profit of 400 and a net profit of $330.80. An SG400 Dye Sublimation Printer Bundle currently costs $599.00, two jobs like that, and it's you've covered the cost of your printer. Dye sublimation blanks are a great way to offer custom products to your customers. Check out these other great resources to help diversify your dye sublimation printing business!