Best Heat Presses For Beginners
Posted by Heat Transfer Warehouse on Jul 30th 2020
Updated 4/27/21
Are you just starting out in the heat transfer vinyl world or have limited space for your HTV projects? A heat press is vital for any successful heat transfer but did you know they come in all shapes and sizes? Below we will compare some of our small but mighty t-shirt heat press machines.
The WALAPress Craft Heat Press is a perfect starting point for crafters. It is 10x12 and weighs only 14 pounds. It also is very affordable for someone just starting out! This press is for more than just beginners though, it is a great portable option for experienced crafters to take to tradeshows, craft fairs, etc. It is also perfect for pressing those hard to reach places like tables, chairs, upholstery, and whatever else you think of!
The WALAPress Drawer Clam 15x15 Heat Press is a great beginner heat press that offers a large platen size at an affordable price. The drawer gives you extra space to work with your garment and design before pressing. At 60 lbs, it is light enough to be portable for craft shows and on-site events. It comes with a 6 month limited warranty, and 3 month electronic warranty. Must keep original box and packaging, and when not in use must turn off to extended heating element.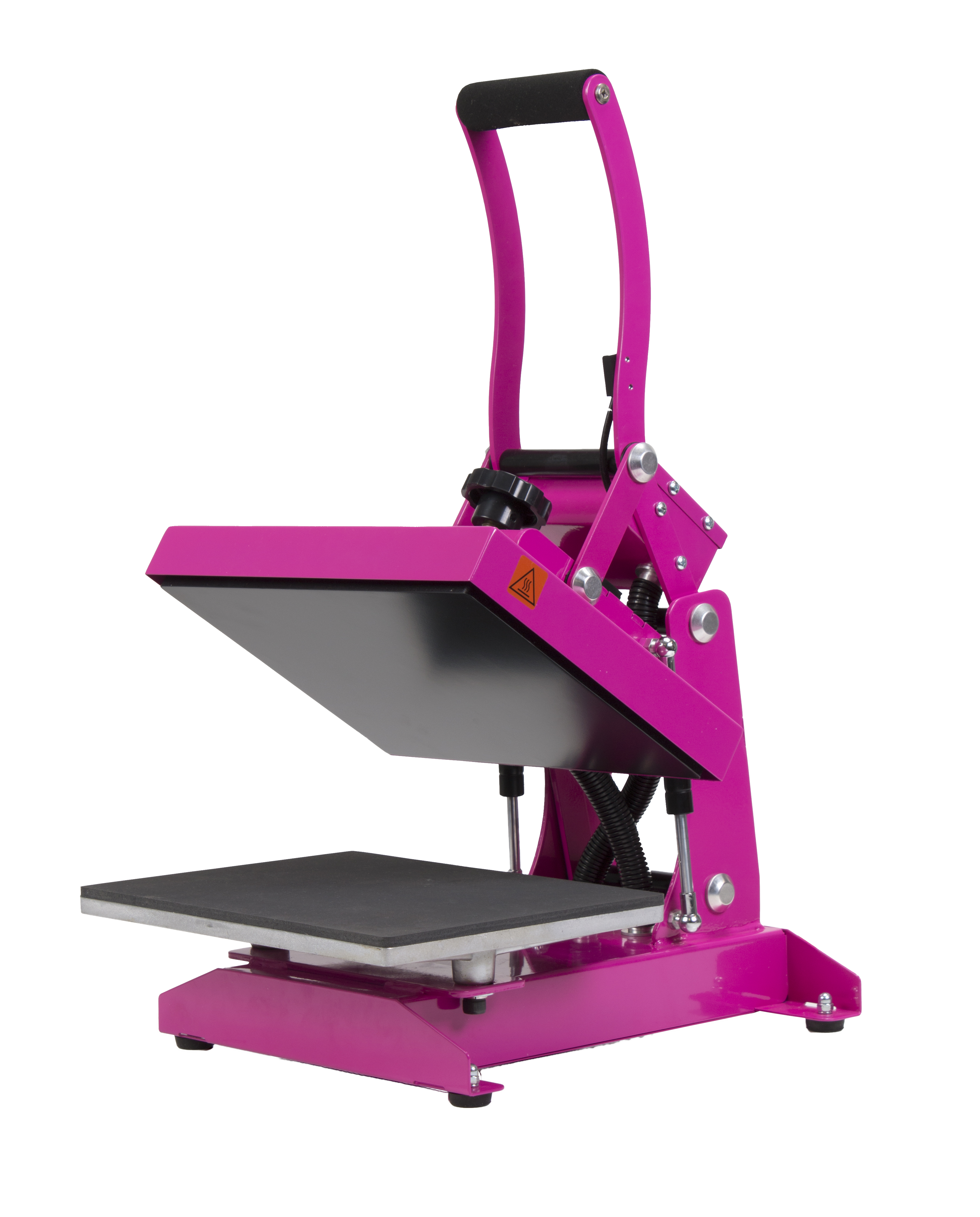 First up is our 9"x12" Craft Heat Press. This small clamshell style craft heat press is great for heat pressing medium to small designs on t-shirts, hoodies (especially on the hood), cardstock and all other types of material you may want to heat press. This lightweight heat press is also great for bringing along to craft shows, on-site events or any on-the-road functions. With the one year warranty, you can heat press with confidence. The temperature and time are easily accessible with the digital control found on top of the heat press. The on and off switch is on the lower back of the heat press for easy access to power. The upper platen is non-stick and teflon coated for easy pressing. We do recommend teflon sheets for extra protection when pressing multiple layers of heat transfer vinyl.
We offer a few different types of bundles that include this craft heat press, a variety of heat transfer vinyl, craft cutters such as Silhouette Cameo 4 or Brother ScanNCut and an accessory to help you get started on your next heat transfer vinyl project!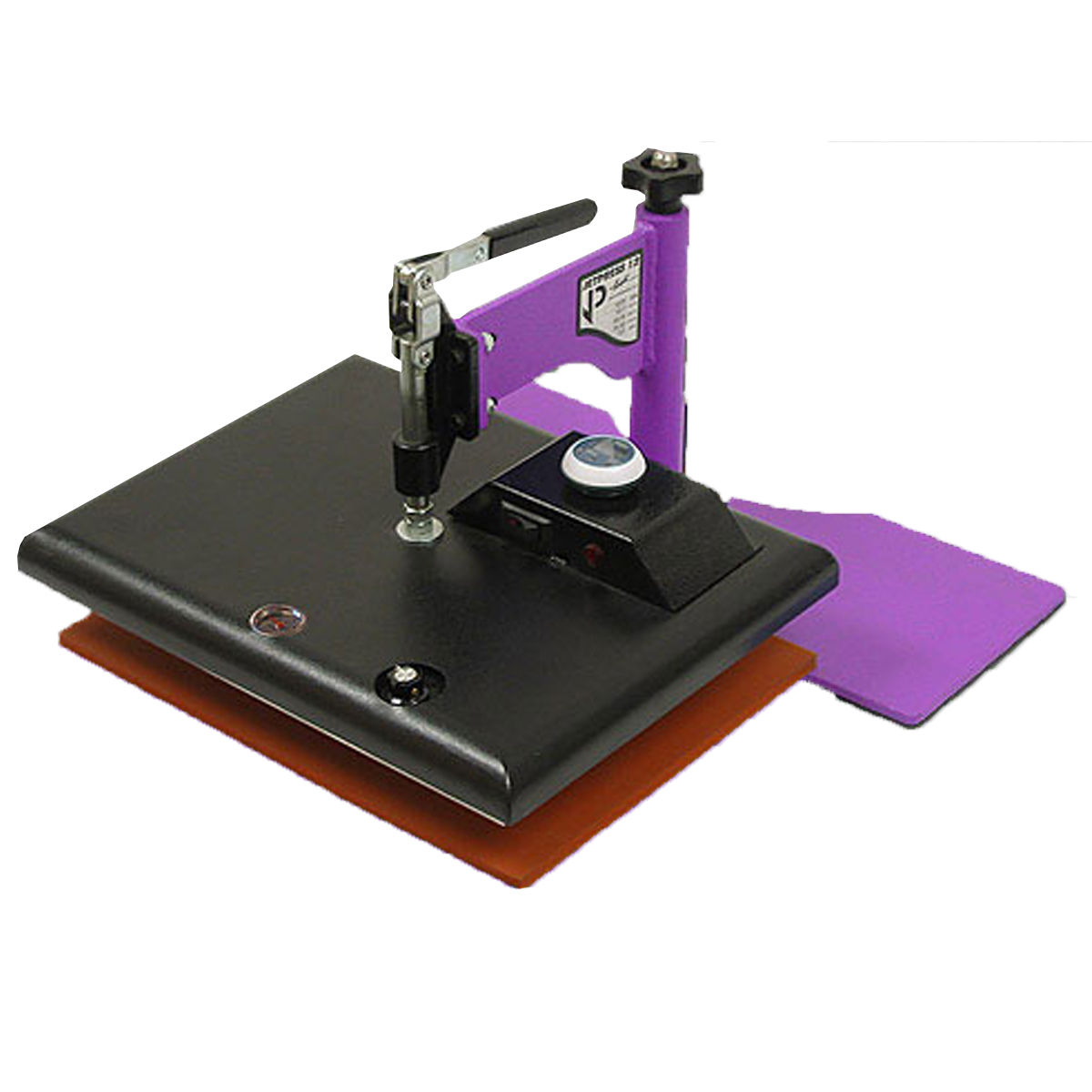 Geo Knight offers a sweet little purple swing away heat press machine that is available in two sizes, the 9"x12" JetPress JP12 and the slightly larger 12"x14" JetPress JP14. Each of these heat presses comes equipped with a digital timer as well as a heating indicator light that will show you when your press is up to temperature. Adjustable and accurate temperature control allows you to heat this press up to 400° and the adjustable height makes this press ideal for dye sublimation blanks that are up to 1" thick!
The easy swing away action, solid steel frame, and silicone pad are just a few of the great features found on this heat press. The Geo Knight JetPress line is a perfect way to get your foot in the door for a quality industrial heat press at a fraction of the cost of some larger models. Both of these heat press machines are lightweight and portable with the JP12 weighing in at about 30lbs and the JP14 a bit heavier at approximately 60lbs. Because this is a swing away design, this press will require about twice the room of it's dimensions since the upper platen swings away rather than lifting up.
These Geo Knight JetPress heat press machines are made in America and come with a 1 year warranty on the entire press as well as a lifetime of free support from Geo Knight.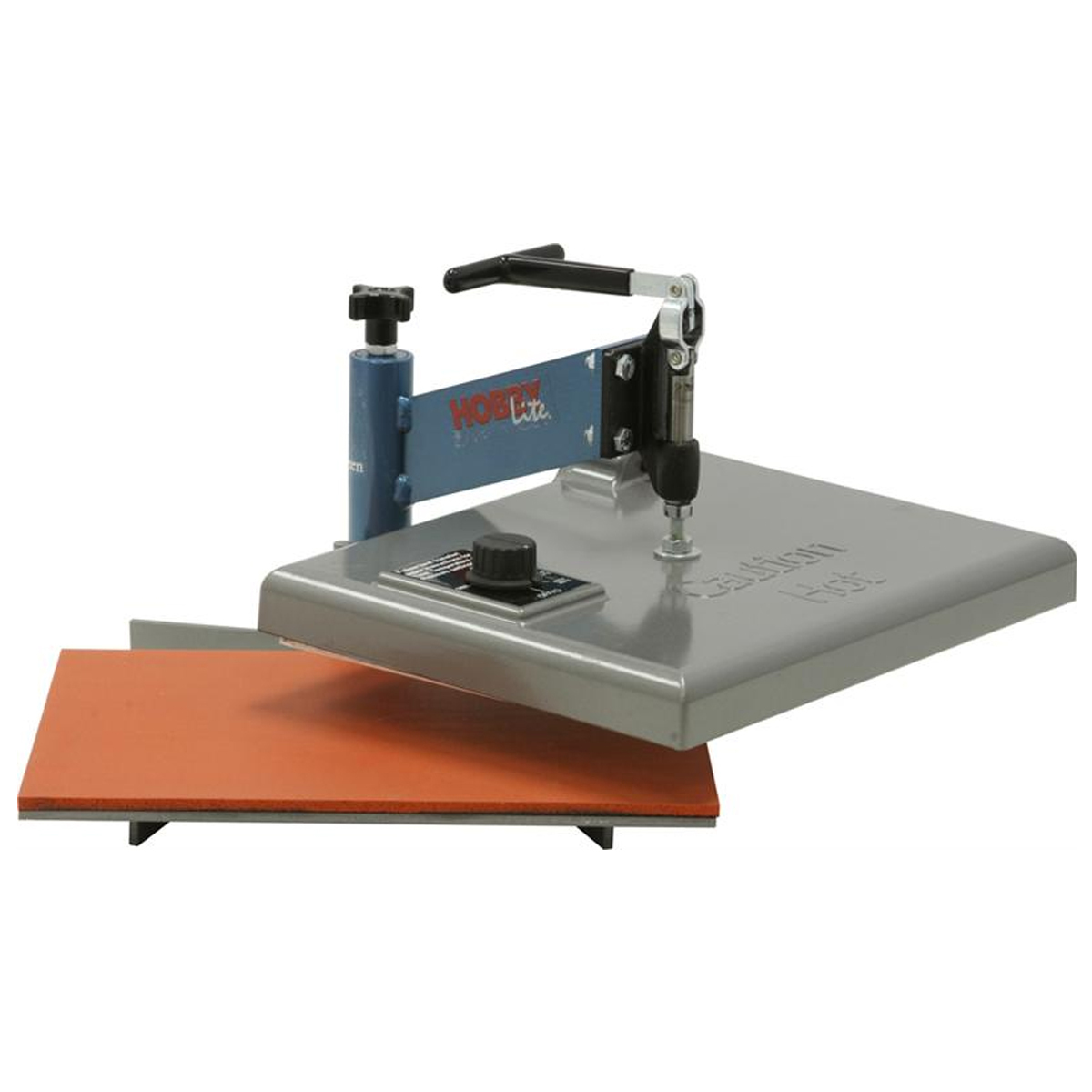 Another member of the craft press family comes to us from Hix. Hix has been in the heat press industry for over 50 years and is another company proudly manufacturing and distributing heat presses made in the USA. The Hobby Lite Heat Press Machine from Hix is a 9"x12" heat press perfect for the crafter or for those small jobs that would get lost on the 16"x20".
The Hobby Lite offers a swing away design that can accommodate substrates up to 1.75" thick! This heat press machine is perfect for pressing dye sublimation blanks such as coasters and can koozies as well as t-shirts, bags, and so much more! At an easy 19 lbs this heat press machine is portable and small enough to accommodate small crafting spaces. While the temperature temperature gauge is not digital like it is on these other heat presses, it has a temperature dial and a heat indicating light so when the press comes up to temperature, the light shuts off.
This heat press machine from Hix comes with a built-in electrical safety fuse and a 1 year warranty on everything on the press.
Each of these heat presses come with a 1 year warranty. The clam shell design of the Craft Heat Press makes it perfect for those extra small spaces and ease of the swing away features on the Hobby Jet presses as well as the Hobby Lite make lining up heat transfers and dye sublimating a breeze. Whichever heat press machine you end up choosing, rest assured that this investment will make a great addition to your small business and bring frustration free pressing to your crafting with accurate temperature readings and easy-to-adjust pressure.
More Resoures