Applying HTV to a Towel
Posted by Heat Transfer Warehouse on Oct 23rd 2019
With summer and busy wedding season right around the corner we thought we'd give applying HTV to a bath towel a try! It's the perfect way to customize a towel for yourself or as a gift.
---
The towels we used were 100% cotton but to be safe we decided to go with our low temperature low application time product; ThermoFlex Low Temp Premium (Turbo Premium)
Now, Hotmark Revolution Low Temp from Chemica works the same way when it comes to low temp and low time application so choosing between the two really comes down to which color you like for your towel.
---
The process of pressing to the towel was really quite simple.
1st: We pre-pressed the towel to get any wrinkles out and moisture that may be in
2nd: We placed our design where we desired
3rd: We set our heat press to 320°F (Note: this is the HIGHEST temperature ThermoFlex Low Temp Premium needs to be pressed at for cottons)
4th: We pressed for 3 seconds
5th: ThermoFlex Low Temp Premium is a warm peel
---
Viola! Here's the finished product!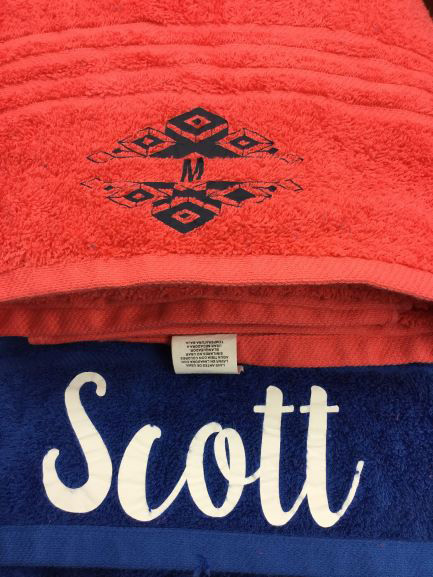 ---
Now, we know you're skeptical, so we put it through the wash to show you what happened! We followed the care instructions on our website which said to wash hot and that it was suitable for tumble dry.
A bunch of little fuzz balls everywhere since the towels were brand new but ALL of the HTV remained on!
---
If you decide to customize some towels please show us your work on Facebook!
To get started with ThermoFlex Turbo Low Temp click here