Emblems made easy
Whether you're looking to add branding to your business uniforms or add some personality to your personal clothing, Heat Transfer Warehouse has you covered. Our partnership with DecoPress allows us to offer a wide variety of patches, ensuring that our customers can find the perfect solution for their needs.
DecoPress Custom Heat Transfer Patches
DecoTwill
Vivid and durable colors with low 10 piece minimum order quantity
To create high-quality embellishments, we use a combination of advanced fabrics, treated fibers, and our proprietary ink system. Our process includes printing and fusing graphics onto twill fabric, which can be laser cut into any desired shape. To ensure a clean finish for the emblems, we offer two border treatment options: satin stitching or a simulated print. With these options, our embellishments are guaranteed to make a statement and enhance the overall look of any product.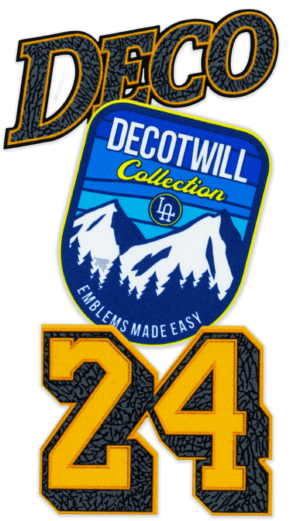 Simulated Woven
Coated, textured fabric with matte finish print. 10 minimum order quatity
Our exceptional embellishment process involves using advanced fabrics, treated fibers, and a proprietary ink system. The graphics are printed and fused onto a simulated woven fabric, which can then be laser cut into any desired shape. This process makes our embellishments ideal for labels and pip tags, providing a high-quality and durable result.
DecoSuede
Add rich, deep color and a luxurious feel to your products by embellishing them with DecoSuede patches.
Available in four colors (chestnut, roasted coffee, dark grey and denim blue), this 100% polyester Suedette is animal friendly and more durable than real suede. The fabric has a water-repellent like quality that makes it safe and easy to clean. Add a simulated border stitch to accentuate your laser etched design. These versatile emblems are an excellent finish for decorating apparel, bags, caps, beanies and more.
DecoLeather
Our fashion friendly DecoLeather Emblems uses an attractive smooth plated leatherette to give any garment a high end retail look and feel.
Made from vegan leatherette, these laser engraved emblems can pick up great detail and enhance the design elements of any product. The classic look of leather is classic and complements as the perfect accent for wearables, headwear, bags & promo. Manufactured in three colors (saddle, grey and black) our Leatherette emblems are a DecoPress top seller.
Frequently Asked Questions
DecoPress is Emblems Made Easy. We make it possible for you to decorate garments using our emblems with equipment you have access to. Whether you are working with an embroidery machine, commercial heat press, or a domestic iron, we have a solution that can work for you. Give your garments a retail finish with DecoPress emblems.
DecoPress has a normal lead time of 2-5 days. Larger orders may take longer.
We can print as small as 0.25 mm line thickness or 8 points on all patches.
We can produce any size under 4" x 4". Choose the smallest size category that your design fits without going over.
Our default print process is CMYK. RGB files will be converted to CMYK.
We prefer vector artwork saved as a PDF, but we can accept other file types if they are prepared correctly. Please refer to our Art Specs on our website for the most up to date guidelines.
You will need to know the garment style and the fabric type for that garment. This is very important so that you can select the correct adhesive.
We offer four types of adhesives that are designed to bond to a variety of fabrics. To choose the right adhesive you must know the fabric you are going to decorate. View the Choosing the Right Adhesive table to learn more about our adhesive options.
The minimum order quantity DecoPress is 10 pieces per design.
DecoPress Apparel, Technical and Headwear adhesives are professional grade bonding adhesives that are designed to work with any commercial heat press. Emblems made with these adhesives can be applied with both air operated and manual heat presses. The multipurpose adhesive can be cold pressed on to most substrates and cures after 72 hours. Only the Promo adhesive can be used with a domestic iron for permanent application.
To create custom patches, you typically need to follow these steps:
Design: Begin by creating or finalizing the design you want for your patch. This can be done using graphic design software or by working with a professional designer. Ensure that the design is clear, visually appealing, and represents the intended purpose of the patch.
Material and Backing: Choose the type of patch you want, either embroidered or woven. Embroidered patches are made by stitching threads onto a fabric background, while woven patches use thin threads to create the design directly on the fabric. Select the fabric material, thread colors, and backing options (e.g., iron-on, adhesive, Velcro, sew-on) based on your preferences and requirements.
Size and Shape: Determine the desired size and shape of your patch. Consider the intended application and the available space for the patch to ensure it fits appropriately.
Manufacturer: Find a reliable custom patch manufacturer or supplier that offers the type of patches you want. Research different companies, compare prices, quality, and customer reviews to make an informed decision. Many manufacturers have online platforms where you can upload your design and place an order.
Order Placement: Once you have chosen a manufacturer, provide them with your design specifications, including the design file, size, shape, colors, quantity, and any other relevant details. Some manufacturers may offer a proofing process where you can review and approve a sample of the patch before proceeding with production.
Production and Delivery: After placing your order, Heat Transfer Warehouse will produce the patches according to your specifications.
Please add this to the page
How to make custom patches and emblems for hats.
Designing your patch
1. Designing Your Patch
First, you'll need to design your patch. This can be done digitally, using programs like Adobe Illustrator, Canva or Photoshop. Make sure your design is simple, as more complex designs may not translate well to a small patch.
2. Choosing your patch Type
There are 4 different types of patches to choose from.
DecoTwill, Sim Woven, DecoSuede and DecoLeather.
3. Placing your order
Once you choose what type of patch you want you will need to select your size and choose the head wear adhesive. Then upload your artwork and enter your design size in the box and if it is a reorder please note your reorder number.
4. Once you receive your order please be sure to check your order over and make sure you have the proper amount of transfers.
5. Applying your custom/emblem headwear patches.
225° F - 265° F
5 - 10 seconds
Peel backing film before pressing
Light to medium
Polyester, cotton, poly/cotton blends
Domestic wash. Tumble or line dry. DO NOT dry clean.
For best results use a Heat Press Machine