Vinyl On Cardstock
Posted by Heat Transfer Warehouse on Oct 28th 2019
How to Make Greeting Cards Using Vinyl on Cardstock
Christmas is ONLY 5 days away! For those of you who celebrate, we understand that Christmas cards can become quite expensive! In this blog, we are going to walk you through how to make your own Christmas cards using both Sign Vinyl and Heat Transfer Vinyl on cardstock. This is a great way to save money - especially if you use those extra vinyl scraps that you may have laying around! You don't need much vinyl, as a design on a Christmas card should be quite small in comparison to a design on a shirt.
---
Sign Vinyl On Cardstock
The first card that we created was made using Siser EasyPSV Permanent and Siser EasyPSV Glitter. Siser EasyPSV Permanent vinyl offers a very nice glossy finish. Siser EasyPSV Glitter has a strong glitter accent to each color, which was used to make the reindeer in the middle of the wreath. Both of these products act like a sticker and require a transfer mask or tape. We chose to use Siser EasyPSV Application Tape for this project. This transfer mask provides 1" grid lines to ensure that you lay the vinyl down on the cardstock straight. It also features a medium tack - meaning that it isn't too sticky and won't leave any sort of mark on your cardstock. Plus, you can reuse the same piece of mask for multiple transfers!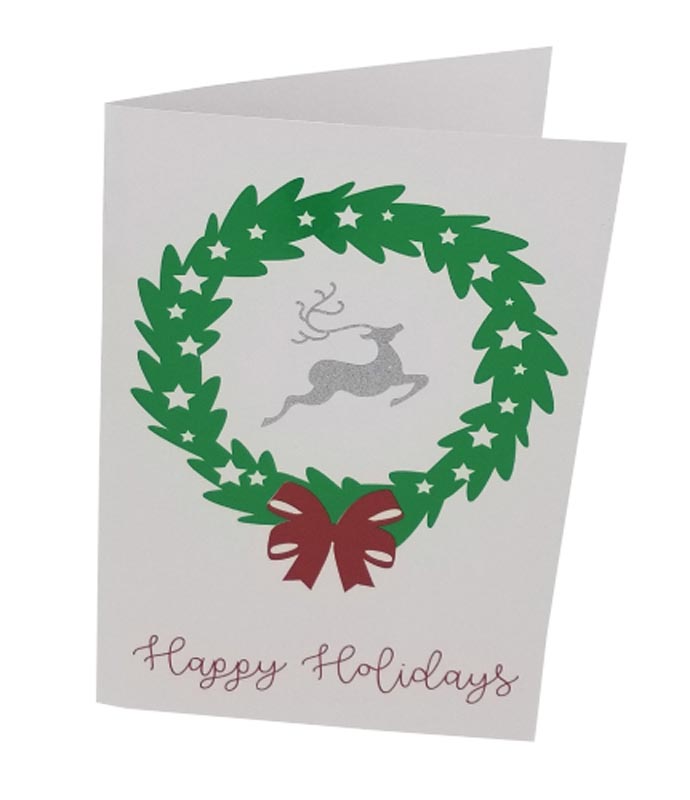 ---
Heat Transfer Vinyl On Cardstock
If you want to take your card-making creations to the next level, using heat transfer vinyl is the answer. Yes, you read that correctly - you can use heat transfer vinyl on cardstock! The second card that we created was made using Siser Textured Glitter 20" in Red, Green, and Silver. When applying Siser Glitter to cardstock, we have found that it isn't necessary to use the same application instructions as you would for applying it on a garment (it's not going through the washing machine). Below, we provide you with the steps that we were successful with.
Applying Siser Glitter on Cardstock:
Open up your cardstock and make sure it isn't folded over. This will keep the back of the cardstock in better shape. (We failed to do this and found that the back of the card was slightly impacted by the pressure of the heat press).
Set your heat press to 305°F with medium to firm pressure.
If you are pressing multiple layers, position first layer and cover with teflon sheet.
Press for 5 seconds and peel warm.
Position second layer, cover with teflon sheet.
Press for 5 seconds and peel warm.
Position final layer, cover with teflon sheet.
Press for 5 seconds and peel warm
It's that easy! Applying HTV on cardstock is as easy as applying htv on a garment!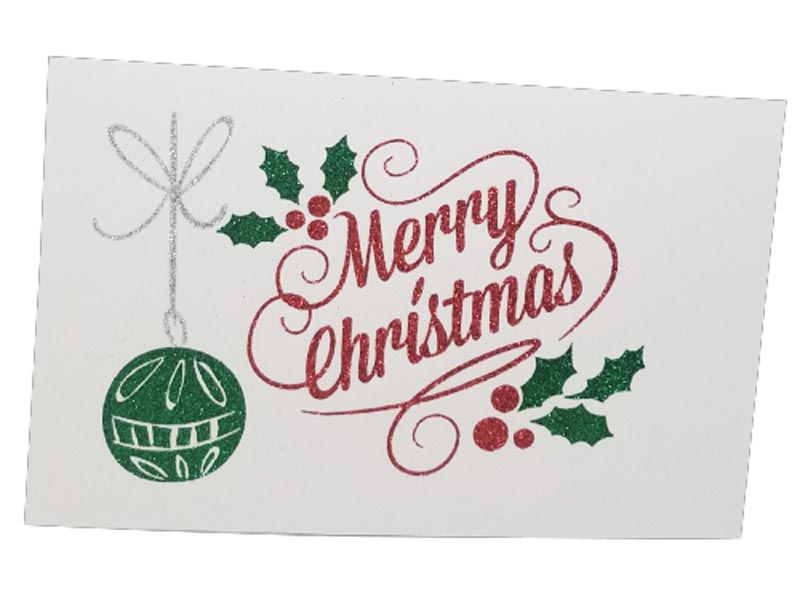 If you end up making a Christmas or Holiday card using HTV, we'd love to see your final creation! Make sure to share it with us on Social Media: Heat Transfer Facebook Group Page