Sawgrass Dye Sublimation Printers: SG500 vs. SG1000
Mar 3rd 2023
SG500 and SG1000 Sublimation Printers
Sawgrass now offers both SG500 and SG1000 sublimation printers! In this blog we will unpack everything you need to know about these two printers to help you understand the difference between the two and make an informed decision on which one is right for you.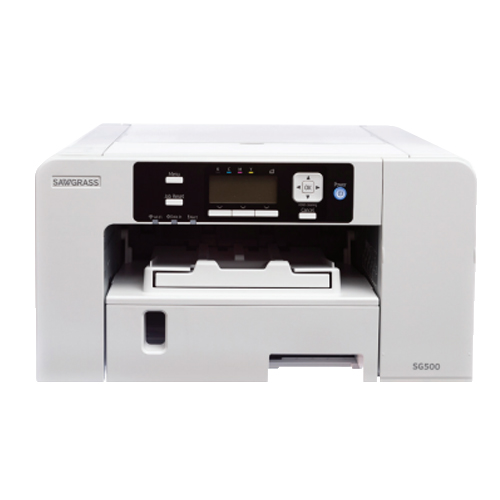 What's New?
The following upgrades have been made to both the SG500 and SG1000 Sublimation Printers:
Ultra Fine Photo mode allows you to print at 4880x1200 dpi (the previous models had a max capability of 1200x1200 dpi)
Optimized to print faster and save ink
The lowest startup cost of any commercial product decorating technology
Fully integrated system, with every component specifically designed to work together with maximum efficiency
WiFi capability means improved ease of use and mobility
Single roll-bar helps to reduce paper jams
The option to purchase a starter set of inks makes these printers more accessible.
New Sublijet-UHD ink is redesigned for even richer, more vibrant color on both hard and soft substrates
More energy efficient
Both of these sublimation printers are backward compatible with the bypass trays from the SG400 and SG800. With bypass trays the SG500 can print up to 8.5" x 51" material and the SG1000 can print up to 13"x 51" material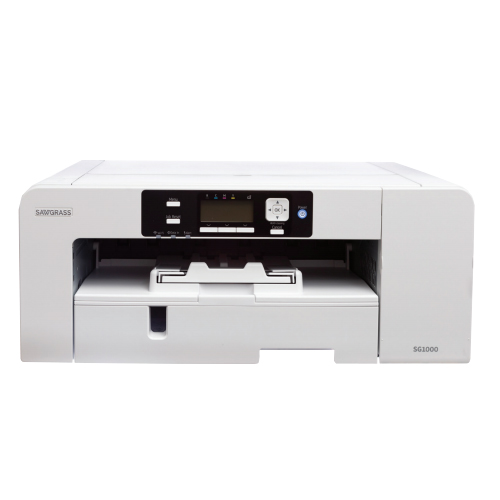 What comes included with a Sawgrass sublimation printer?
Sawgrass Academy offers comprehensive online training for Sawgrass users. With the purchase of an SG500 or SG1000, you'll receive access to Sawgrass Academy's Training and Certification, Business Builder Courses, and more!
Sawgrass Creative Studio is an easy-to-use design software. Even better, it has thousands of ready-to-use designs! An individual account is included with every Sawgrass printer purchase.
Print manager ensures the colors you get are the colors you want. This software adjusts ink output based on the substrate you are printing on. This saves you money with less wasted ink, and ensures the best finished product.
1-on-1 Sawgrass setup and onboarding.
Full set of 20 ml or 31 ml Sawgrass SubliJet-UHD inks (C, M, Y, K)
Free (and unlimited!) lifetime tech support
Go Expression (which is an online marketplace where you can sell your designs) and Go Exchange (which is a fulfillment service)
What's the Difference?
The main difference is that the SG1000 can print bigger sheets of sublimation paper, enabling you to sublimate larger objects without having to worry about splicing together smaller ones. As such, the SG1000 has a bit larger footprint than its SG500 little brother. If you need to sublimate larger objects (or are ganging up many sublimation designs to print on one large sheet of sublimation paper), the SG1000 is most likely your best option. However, if you don't need such a heavy hitter, the SG500 can do a bang-up job on smaller designs and take up less space while doing it. The tables below illustrate the differences between these two fine machines:
SG500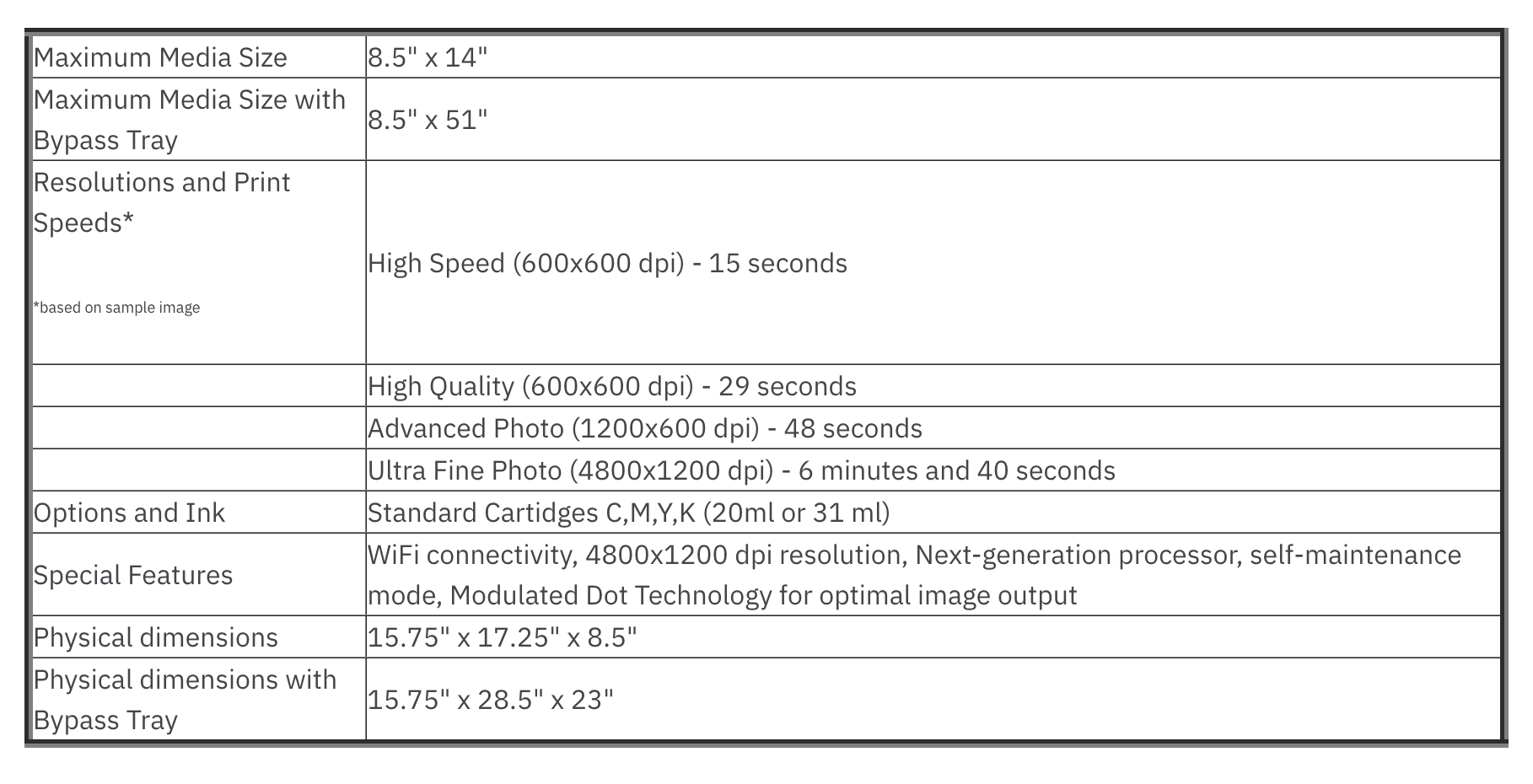 SG1000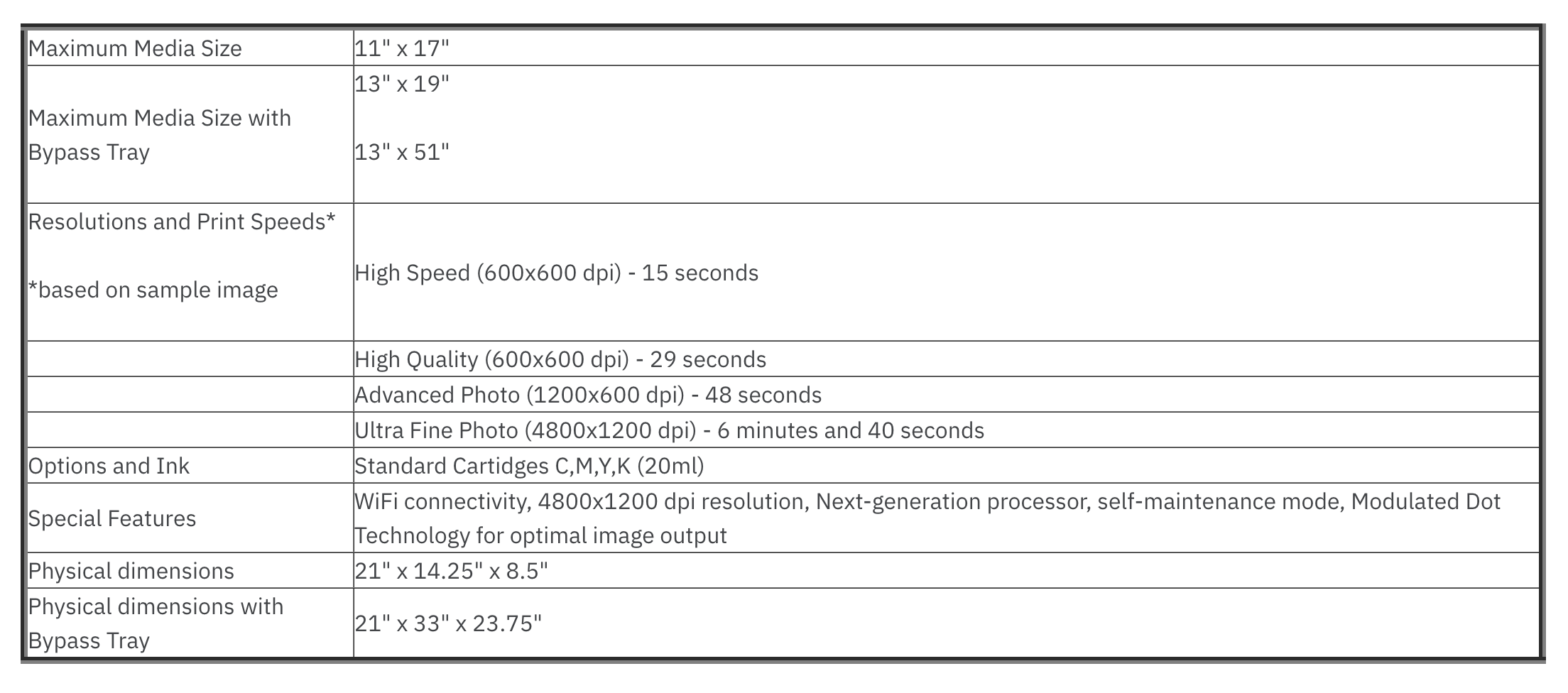 Why Sawgrass?
Sawgrass is one of the few companies that has a sublimation printer built from the ground up just for dye sublimation. The entire system is airtight so you don't have to worry about the mess of filling ink cartridges or the potential disasters of an air bubble in the line or a clogged print head. When you buy a Sawgrass printer you can buy with confidence knowing each printer is backed by a 2 year warranty and lifetime tech support through Sawgrass directly.
Take a quick look at the SG500 with our unboxing video
Order Now!
Sawgrass Virtuoso SG500 Sublimation Printer with Starter Install Kit
Sawgrass Virtuoso SG1000 Sublimation Printer with Starter Install Kit
Sawgrass Virtuoso SG500 Sublimation Printer with Standard Install Kit
Sawgrass Virtuoso SG1000 Sublimation Printer with Standard Install Kit
Sawgrass SG500 and Siser EasySubli Bundle