Applying HTV with an Iron SUCCESS (Part 2)
Jan 9th 2020
Applying HTV with an Iron SUCCESS (Part 2)
For those of you who saw our last blog, you know that we attempted to apply 4 different HTV's (Siser EasyWeed - Mint, Hotmark Revolution - Red, ThermoFlex Plus - Kelly Green, and Turbo Low Temp - White) with the use of a hand iron. We will admit that we went into the process without doing any prior research on proper ways to apply HTV to a hand iron. And because we failed to do our research, we struggled with the process. We noted that it was long and difficult for us, and that our finished products didn't turn out too pretty. We also recommened not using an iron. Before making these attempts, we knew that it was possible to apply HTV with a hand iron. After the process... we knew that there has to be different and better methods to using a hand iron. In fact, when we were in the process of writing the last blog, it was then that we found video tutorials from our own vendors on how to properly apply their HTV's using a hand iron. We weren't satisfied with our first attempts, so here we are it's redemption time... and we were SUCCESSFUL!
Materials Used
HTV's
Siser EasyWeed - Minnesota Purple
ThermoFlex Plus - Storm Grey
Hotmark Revolution - Fluorescent Pink
Turbo Low Temp - Black
Siser Textured Glitter - Jade
Shirt
Iron
A common household Black&Decker hand iron
For the use of all 6 HTV's, we kept the iron set at the Cotten Blends temperature setting.
**If you have a steam iron, it is very important to remove all the water in the iron. You DO NOT want to apply moisture while pressing HTV**
We used used a teflon release sheet as our cover sheet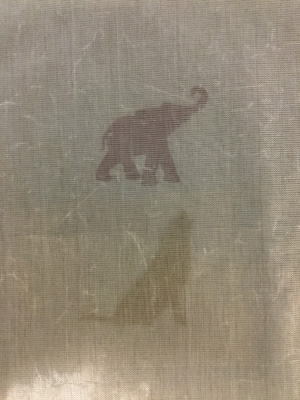 We focused on following the directions provided in this video by Siser:
The only adjustment that we made was the pressing time - which of course depends on what HTV is being used.
Even though we did use some low temperature HTV's (Hotmark Revoultion and Turbo Premium), we still had success in keeping the iron temperature at the Cotton Blends setting.
Application Steps
As mentioned, the video above pretty much breaks down all the steps we followed. But for your ease, here are the steps:
Cut and weed your design
Set your iron to a setting between polyester and wool. We were fortunate enough to have the setting Cotton Blends, which falls between polyester and wool.
Pre-iron your garment in the areas that you will be applying HTV to. This will help help eliminate any wrinkles, and most importantly, it will help eliminate any moisture in the garment (which will help the HTV apply easier).
Place your HTV design on your garment.
Place a cover sheet (we prefer a teflon release sheet) over your HTV design.
Apply the HTV with the iron, begining with light pressure and increase to firm pressure. Depending on what HTV you are using. try to keep the iron over the HTV for the recommneded pressing time. We found that with some HTV's you may need to add about 10 seconds.
Carefully remover the liner either warm or cold. We found best results (no matter the HTV) when peeling COLD. If you find that the HTV is lifting up with the liner, simply place the cover sheet back over your HTV and press for a few more seconds (or until you can remover the liner).
Don't worry if the edges of the HTV are still not completely adhered to the garment! After you peel the liner, place the cover sheet back over the HTV and go back and forth with the iron as if you were ironing your clothes. This will ensure that all edges of the HTV design are getting firm pressure. Do this for about 5-10 seconds or until you visually notice that all edges of the HTV seem to be fully adhered to the garment.
It's that easy!!!
Easy changes made from our first attempts in our previous blog, yet huge improvements with the finished products this time!
The iron worked well with all 6 HTV materials!
**Note that all of our designs were much smaller than the base of the hand iron. This made the process much easier as well**
You can't even tell the differenece between using a hand iron versus a heat press with our results! Check out all our high-quality finished products below:
---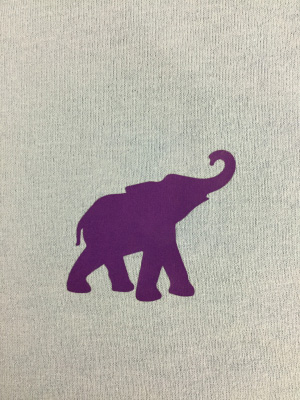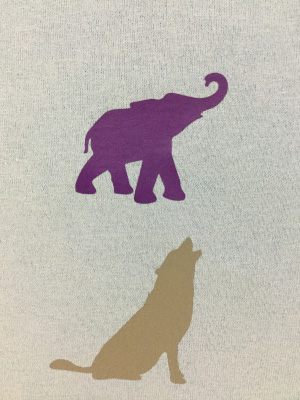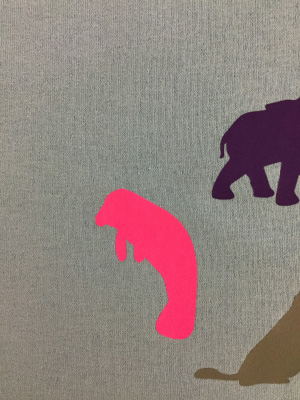 All HTV Finished Products Together!